Does your laptop have any of these symptoms?
– When you plug the charger in, it sparks.
– DC power plug/jack is loose.
– Laptop does not charge the battery.
– Center pin inside the dc jack is missing.
– Laptop won't boot or it won't come on at all.
– Laptop turns off randomly while working with it.
– When charger is plugged in the power light indicator won't come on.
– LCD screen flickers bright and dim.
– You have to wiggle the plug all the time to make it charge.
– You have to hold the cable at certain position so it will work.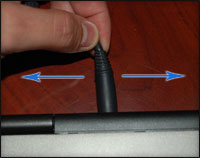 If you answer yes to any of the above scenarios, chances are, you have a bad DC power jack that needs to be replaced.
DC power jack are usually soldered to the motherboard and can be replaced. They come loose due to normal use or they break by accidents (dropped the laptop when it was plugged).
If you are in this situation it is highly recommended that you stop using the laptop immediately and send it to a repair shop that can address this problem. Using the laptop with the DC jack loose or broken can lead to a major irreparable damage to the motherboard or in a more expensive repaired.
We only use brand new parts so rest assured that your laptop will be professionally restored. We also, back up our service with a full 60 days parts and labor warranty.
Feel free to contact us with any of your questions 407-715-7622

Feel free to contact us at anytime with any questions at 407-715-7622
or visit our contact us page for directions or to email us direct!